Your Body is a Person's First Impression of You
When you visualize someone, the first thing that comes into your mind is probably their body. The body, unlike the soul and spirit of a person, can be seen with the eyes. How you look, though, often reveals some of what's in your soul and spirit.
The Body Reflects What's in  Our Souls and Spirits
Shakespeare once told us that our eyes are the windows to our souls. They often tell a different story than our facial expression or our lips. Psychologists have confirmed this. What do the eyes of the girl in the photo above tell you?
I think our parents knew this. When they suspected we were lying, they made us look directly at them and repeat what we said. Perhaps you remember being told, "Look me straight in  the eye and say that."
Our bodies also communicate messages non-verbally we may or many not want others to know. The FBI and police detectives know this. Now many books have been written to share what they and psychologists have learned.  The books below can help you know what you're telling people with your body and how to see what people are thinking by what their bodies give away before they say a word.
 What Every BODY is Saying: An Ex-FBI Agent's Guide to Speed-Reading People
 Mastering the Body Language: How to Read People's Mind with Nonverbal Communication
 How to Analyze People: A Total Guide to Analyzing People and Body Language
 Body Language: Communication Skills & Charisma, How Your Body Language Gives Away More Than You Want To Say
&
Clothes, Jewelry,  Cosmetic Use, and Personal Grooming Also Express the Inner Person
How a person dresses and grooms can give clues as to a person's state of mind. For example, letting oneself go when one is financially able to be well-dressed and well-groomed may indicate a state of mental depression. Obesity may indicate a person is eating to satisfy some unmet emotional need. (Don't assume, though that this is true. It may also indicate an untreated medical condition.)
Using a lot of makeup, wearing an excessive amount of jewelry, or covering oneself with tattoos may indicate that a person feels ugly without those things. The person may also simply be expressing an attitude, promoting a cause, or stating their beliefs for all to see.  Here's one person's view on What Your Jewelry Says About You. In What Do Tattoos Mean, a psychologist offers insight into what they meant to one of his clients.
 You Are What You Wear: What Your Clothes Reveal About You
 Trinny and Susannah Take on America: What Your Clothes Say About You
&
Our Bodies Are God's Temples
The Bible tells us that our bodies are the temples of God. How we treat them is important to God. How we treat them also determines the way they  will treat us as we age. If you live a sedentary life and overeat, your body will probably not treat you kindly when you are past sixty.
If you burn the candle at both ends when you are young, you will pay the price when you are old. Sleep deprivation is not healthy. If you have trouble sleeping, here are some tips from my experience that have worked to help me sleep better.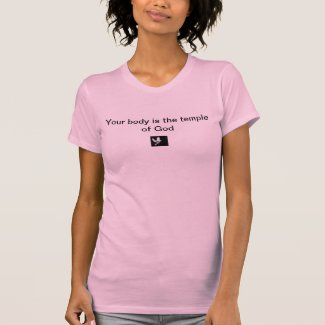 Temple of God T-shirt
Shop for Raj T-Shirts online at
Zazzle.com
This "Body" Tab Will Index Articles Related to the Human Body
Articles under this tab will deal with what you put into your body or on it, and how you use your body and care for it.
Health
Exercise
Fitness
Diet
Recipes
Nutrition
Grooming
I expect to post recipes first and the rest later. Please pin this photo for future reference.