A Month of Death
As I sit at my keyboard on December 23, 2012, I am reminded of a day nine years ago when I could not sit at my keyboard. I could not get to it after a violent earthquake that killed two of our citizens in Paso Robles. I was reminded of that earthquake very early this morning as my bed began to shake, and I tried to decide whether to get up and find a place to seek shelter or to stay in bed and trust the quake was over. I decided to stay in bed, and the quake was over.
As I sit here, I see my countrymen still trying to make sense of the shooting of 27 people, twenty of them children, at an elementary school in Sandyhook, Connecticut less than two weeks ago. There is continuing violence in the Middle East. In the past two weeks, two people in my church have lost their spouses to illness, and a friend lost her mother. It doesn't take more than a look at the news to know that each day someone is hurt or killed deliberately by a violent or insane person, or through an accident. We can't help but wonder if we or someone we love could become a victim, too.
The World is Not a Safe Place
(As I revise this in December 2015, the world is still reeling from a terrorist attack in Paris that killed 130 and wounded many more. Almost on the heels of that attack came another in San Bernardino that killed 14 more people and wounded 21 more– the worst terrorist attack on American soil since 2001. Americans now know that violence could affect them personally now that ISIS is inspiring successful attacks in the homeland. )
How to Stay Sane in a Dangerous World
As I huddled under the covers early this morning, trying to decide what to do, I decided I would not be ruled by fear. I was not going to stay on alert all night waiting for aftershocks or get up and search the Internet for the magnitude of the jolt. I was going to trust God with my life and go back to sleep.
This afternoon I took a shower and washed my hair. I knew I was still vulnerable to possible aftershocks or another quake. But I have chosen not to let my vulnerability paralyze me since all of us are always vulnerable to something. We can choose to walk in trust or walk in fear. I have chosen to trust God for my safety and the lives of those I love.
That does not mean God has kept my family from accidents and disasters. We have lost two children — one in an accident and one by her own hand. But I still believe God is in control of history and my family's place in it.
Trust does not make one immune to personal loss and suffering. It gives one the strength to get through it and to live in peace rather than fear. Trust doesn't mean lack of preparation, either. God prepared me for my son's death, as only he could, and gave me a chance to say what I wanted to say before I said goodbye to him on his last trip away from home.
This picture was taken after the quake in 2003, standing where my bedroom door was (to the right) facing my path down the hall to the bathroom. Behind me had been a similar scene we had spent three days cleaning up so I could get this far to take the picture. Since that day, realizing I could have been trapped, I have been keeping between a half gallon and a gallon of water, some nuts, and some chocolate up there, just in case.
We Walk by Faith Not By Sight
Faith is flameless candle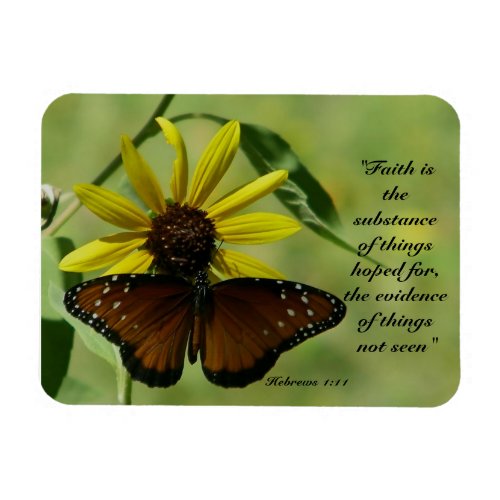 Faith is Hebrews 11:1 Rectangular Photo Magnet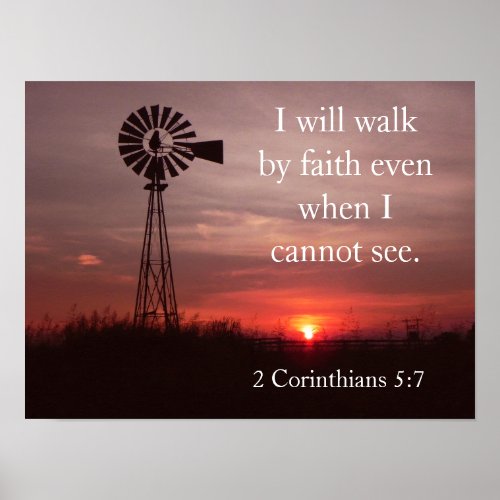 I will walk by faith – Scripture Poster 2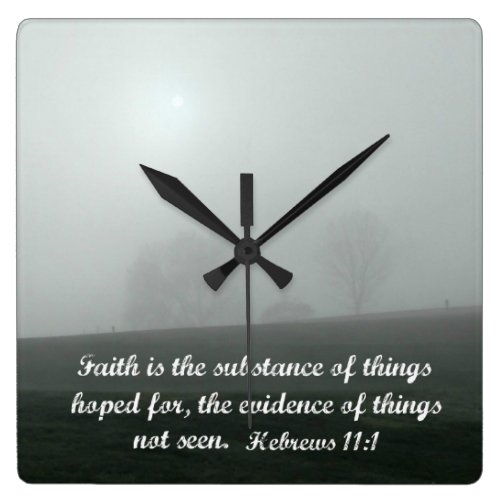 Hebrews 11:1 square wall clocks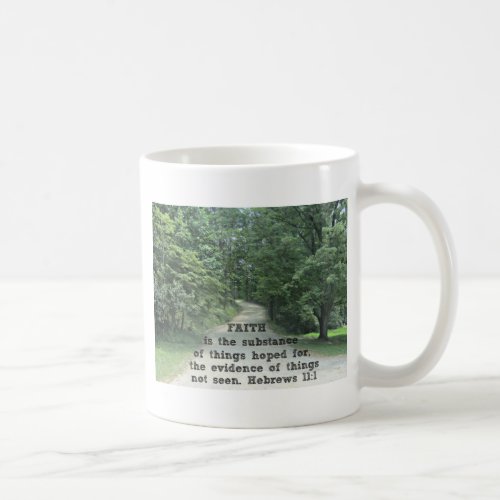 Hebrews 11:1 classic white coffee mug

Faith Premium Flexi Magnet

Trust in God Means Believing He's in Control
God doesn't promise Christians that we will know in advance the outcome of every path we take or decision we make. We are called to act wisely with the information we do have. Trust in God does not mean going about life with our heads in the sand, pretending bad things won't happen. It means knowing that God is in control of whatever happens.
The apostle Peter tells us in I Peter 5 that when we see things ahead that make us anxious, we should cast all our anxiety on Jesus because he cares for us. On the other hand he tells us in the very next sentence that we should be watchful and sober because the devil is like a roaring lion, seeking someone to devour. We are instructed to "Resist him, firm in your faith, knowing that the same experience of suffering" is required of Christians all over the world. We are assured that after we have come through the suffering, God "will himself restore, establish, and strengthen you." (from I Peter 5: 8-10, RSV)
Trust When We Travel – No Matter What the Weather
On Christmas Eve I anticipated travel. It was still storming. The storm could continue through Christmas Day, according to the weatherman. During a storm freeways can be more dangerous than usual, especially on Christmas Eve when some people still drink and drive. I was a bit concerned. Accidents happen. They could happen to us on a trip of almost 200 miles. Does that mean we should stay home and not see family and friends on Christmas Eve and Christmas Day? No.
We allowed ourselves lots of time so we did not need to hurry. My husband drove carefully and I acted as an extra pair of eyes for him. We arranged things so we would not have to travel for long distances when we might be tired. Beyond that, we trusted God to watch over us as he has so many times before. As it turned out, we had a very safe trip to Southern California with no traffic on Christmas Eve or Christmas Day. The traffic was only heavy coming home the day after Christmas, but we were careful.
That being said, I would not have chosen to go out on a night like that for a lesser reason than believing the travel was important. I would travel to help a friend in need. I would take my husband to the hospital if the occasion called for it. I would not make a trip to the store for something I could wait another day for. Trusting God isn't the same as being foolish or foolhardy and then expecting God to intervene and protect you. Even Jesus didn't do that. He did what God wanted him to do and refused to fall into Satan's trap to "tempt the Lord your God." (Luke 4:12)
I Will Fear No Evil
Aren't There Valid Fears?
Don't Bad Things Happen?
Of course. God has given man free choice, and that includes the choice to do evil. Men aren't puppets programmed to do only what is right. Sometimes it seems that those who are evil not only prosper but hurt the innocent
Christians have undergone persecution since the beginning of Christian history, and they have suffered and died. Jesus himself was put to death. Many of the apostles died as martyrs. Yet Peter and Paul were the very ones who told us to trust God, knowing that we will suffer various trials that will purify our faith.
God did not promise that we would not suffer. He promised that the evil one would not overcome us and that he would give us the grace we need to get through the bad things that happen. Even death itself leads to eternal life for those who are trusting Jesus for their righteousness before God.
Will we sometimes be afraid? Of course, we will. Walking by faith in the presence of fear means believing that God's promises are true even when we can't see the evidence of it in our circumstances. King David dealt with fear by crying to God for help and then recounting all the promises God kept to his people in the past as he waited for God's deliverance. He suffered pain and betrayal from family and friends, but he still trusted God.
Before David's time, Job suffered the loss of all he had and even his body was afflicted, but instead of cursing God, as his wife told him to, he said, "Though He slay me, I will trust Him." Job continued to trust and was rewarded with a conversation with God himself. Then God restored his fortunes to more than he'd had originally. In the case of Job, we are allowed to see why he suffered so, but it was hidden from Job. Job had to rely on his faith in God's character.
In the book of Hebrews, Chapter 11, we have a parade of people who showed their faith in God's promises. Some saw God's power in delivering them, such as when Moses brought his people across the Red Sea and prophets experienced miracles of God as He kept his word to them. Others died without seeing their vindication but trusted they would see it in the next life.
We do not know what our own trials and tests of faith will be. As Corrie ten Boom once said, God won't give us the grace we need until we need it. I did not believe I'd be able to handle it if anything happened to Jason, the son I loved, but he died in an accident when he was 14. God gave the needed strength then — after it happened. Read the story of Jason's death here.
Getting to Know the Character of God Will Feed Your Faith
Faith is not a mystic something that just happens. You need to cultivate and feed it. Think about your relationships with people. What makes you trust certain people and not others? God does not expect us to follow Him blindly, but to learn to know Him through his Word to us — the Bible.
The entire Bible is the story of God's relationship with individual men who learned they could trust Him to keep his word. The first book of the Bible, Genesis, tells the story of the beginning of the relationship between God and man. God proved his faithfulness to each new generation. Each individual person God dealt with learned he or she could trust Him.
Read Exodus and Deuteronomy, Job, Psalms, and the historical books of the Kings. Read the prophet Isaiah and the New Testament accounts of the life of Jesus and the beginning of the early church. Pray that God will help you learn to trust Him to keep the promises He made to all his people, and to you, too.
Then take Him at his word. When you are afraid, remind yourself of a promise that covers your situation. To do that, you will need to memorize some of those promises so they will be handy when you need them. You will discover that faith is rather like a muscle. When you exercise it, it grows stronger.
As you get to know God better, you will learn to love and trust Him. You will also learn how much God loves you. I John 4:18 tells us that "Perfect love casts out fear." When you love someone and trust his love for you, you are not afraid to trust yourself to him. So it is with God.
To conquer fear of the future and the unknown, or what might happen, read the Bible to learn how much God loves you and how powerful and reliable He is. Learn what He's done for those who have trusted Him in the past. And when you are afraid, remind yourself of how He has showed his faithfulness to others and to you, yourself, in the past. Then trust Him, and obey what he tells you to do.
It's not always easy. I'm sure it wasn't easy for Daniel to walk into the den of lions, but had he not done it, he would not have seen the power of God to deliver him. I'm sure Joseph probably had times when, while he sat in prison for something he didn't do, wondered if God had forgotten him. In reality, God was preparing him by refining his character for a position of power. Joseph and Daniel both walked by faith, not by sight. And God came through. He will come through for you, too, when you trust Him.
A Reliable Study Bible Helps
We Walk by Faith, Not By Sight
Do You Have an Experience to Share About God's Faithfulness?
Any rational person has legitimate fears. We fear the pain of illness or the death of someone we love. We may be afraid of violence in our cities or the outbreak of war. We know these things are out of our control. We can face them with faith or we can let our lives be crippled by our fear. Knowing and trusting God makes all the difference to me, and has enabled me to live without fear paralyzing me.
Related articles